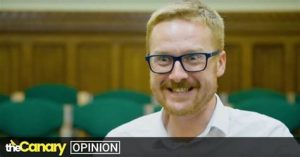 Lloyd Russell-Moyle MP, Chair of the All-Party Parliamentary Group On Kurdistan…
is a feckin cuuuunt.
Indoctrinated at the monkey-houses of both Sussex AND Bradford, he is currently MP ("Labour cooperative") for Brighton Kemptown. Nudge nudge, wink wink, need more be said ?
A vomit-inducing BBC vid on YouTube (about 4x as many dislikes as likes !!) opining that the demise of the Begum brat is a real tragedy.
This boy is an archetypal virtue semaphore, waving around like an flasher's todger on the Paris metro. Another soulless ginger with the regulation hipster specs and appearance.
Nominated by HBelindaHubbard