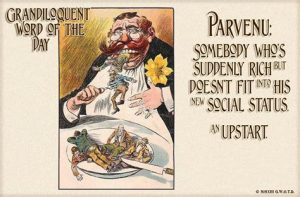 I'd like to Cunt the Parvenu.
I attended a drinks party at the home of a couple who recently bought the Manse in a neighbouring village. I, of course,wore a dark grey suit (old but smart),a tie and black shoes. Upon arriving I was greeted by what I took to be the butler from some Edwardian-era Agatha Christie adaptation holding the hand of an overdecorated Christmas tree. It did cross my mind that perhaps I'd overlooked the "Fancy Dress" code on the invitation,but no…it was mine host and his painted-lady wife wearing more jewellery than a fairground Gypsy. After recovering from the sight of this seizure-inducing vision of over-indulgence (in every sense of the word), I introduced myself. The "butler" proceeded to shake my hand in a manner of a Thai prostitute rushing a "Happy Ending" and then the damned female lent in and kissed me on both cheeks….I was fucking aghast…I'm not some fucking foreigner nor am I her "fitness coach".
After disentangling myself from the attentions of the over-perfumed, over-permed and over-familiar Lady of the House, I was invited to join the other unfortunate guests in the "lounge"…. a fresh assault on my sensibilities that dwarfed the greeting assailed my senses. Something that resembled a "mash-up" between Ikea and the Hall of Mirrors at the local fairground greeted me. An eighteenth century house decorated like a French tart's boudoir. A veritable monument to bad taste capped only by the massive television that seemed to take up most of one wall.
Luckily I knew a few of the other guests and once my power of speech had returned, I joined them to marvel at the sheer bravado of the "interior designer" who had managed to convince anyone with even a modicum of sanity to furnish their home thus.
I then spent a couple of pleasant hours with my friends watching, and sneering at, our hosts. They spent most of the time braying about their holiday home in The Algarve (or some some such place), how much they'd paid for a pony for their daughter, how they wanted to put triple-glazing in the house etc.
However, the final straw for me was when the "butler" (as we were calling him) clicked his fingers at one of the young girls waiting-on, and announced that he was about to open some £300 bottle of champagne. It was the finger-clicking that did it for me…revolting habit. I was hard-pressed not to point out to him that I'd assumed that he was the staff, but contented myself looking at the equally appalled faces of my friends.
I quickly made my excuses and left, although I must say that I was surprised that the gruesome twosome didn't try to give me a "goody-bag" or something equally plebian on the way out. Dreadful, truly dreadful.
Get Fucked.
Nominated by Dick Fiddler