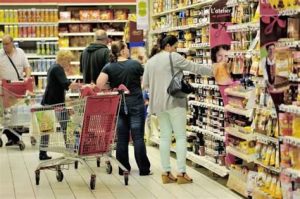 I've decided to take a very brief break from political cuntings to focus on something closer to home that boils my piss just as much, lazy cunts at supermarkets who don't take their trolleys back to the trolley stands that are all over the fucking car parks at these places. Mrs McGraw and I called into our local Asda this morning, 27th December), to replenish our stock of festive supplies. We packed it all into the old Chelsea Tractor, got in, and then, 'bang'.
The car park at our Asda is built on a shallow hill. But it's just steep enough for a trolley to roll down if some lazy cunt leaves it in an empty parking space, instead of in the trolley stand, with the other trolleys. Which is what happened here. Some ignorant cow had been loading her car up in the next but one space up from ours, then just let it go and started to get into her car. It hit my near side rear door, but fortunately, there was no damage. She knew she'd done it, because she turned and looked when she heard the bang. Didn't give a fuck. Neither did I, when I retrieved the trolley, walked up to her car, gently nudged the front of the offside front wing, and then carefully left the trolley balanced against one the spotlights on her front bumper. I then suggested she might like to take the time to replace the trolley whence she found it, instead of being an ignorant cunt and letting it hit someone else's car.
She seemed somewhat put out at this, obviously she was incredibly busy thinking only of herself. But did I give a fuck? No. Cunts like her are fucking parasites. I've been seeing this quite a lot in the last year or so, and I'm already mightily pissed off with it. I can't remember the last time I tried looking for an empty space in a supermarket car park, only to find that some selfish, ignorant sack of monkey shit has left their trolley in it, instead of putting it back with where it lives.
There should be a law allowing us to batter cunts like this, with shopping trolleys, until it sinks in that not returning trolleys is selfish, ignorant and makes you a sack of monkey shit.
A surprisingly non-political cunting by Quick Draw McGraw