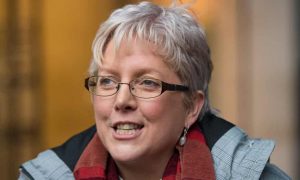 Carrie Gracie – what a cunt. Her paltry £92,000 salary from the AlBeeby wasn't good enough as the men were getting paid more.
So she throws all her toys out of her pram. Now most people who throw there toys out the pram usually get fired, dismissed, and usually would never want to work for such a discriminatory organisation again.
But not this bitch. She gets a payrise to £145,000, back dated at the taxpayers expense, takes 6 months unpaid leave and lo and behold is back at the AlBBC as if nothing had ever happened.
These people are hypocritical low life scum, there is no justice in this world. Cunts.
Nominated by Speakyourmind