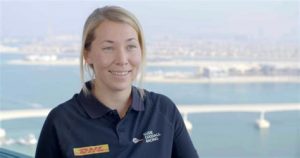 Susie Goodall
Who? Well this is the silly little rich bint that chose to sail round the fuckin world courtesy of Daddy's money.
Very predictably, her make up bag fell overboard and she screamed SOS
As a result her rescue becomes international news, and a tanker the size of Wales has to find her and haul her on board.
If you are bored luv, get yourself a fuckin proper job, or a man, and stick to sailing a dinghy at the weekend.
Fuck me.
Nominated by Mrpoopants