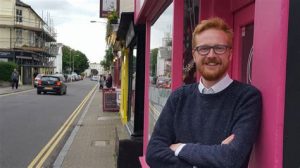 Lloyd Russell-Moyle MP. CUNT
Just in case you hadn't realised what an accepting cesspit modern society has become and how self indulgence and a CV peppered with FUCK ALL is the absolute prerequisite qualification for selection as a fucking 'Labour' MP, step forward the MP for Brighton (tee hee) Kemptown.
The U.K. Parliament is a place that has set the standard for democratic sovereignty around the world, its overseen the worlds most destructive wars, the dissolution of empires, the abolition of slavery, conspiracy to overthrow the rule of law……
It's been the home to some of the most influencial political figures in history whose rhetoric and absolute self belief and determination never to give in galvanised a nation against all odds to stand alone in the face of tyranny and overwhelming military power.
When Churchill stood in Parliament and gave his 'We will fight them on the beaches' speech it was utterly selfless.
No reference to the personal struggle was made, not even in passing, no hint given that the orator was enduring great personal sacrifice.
And then there's Lloyd Russell-Moyle MP.
Standing in Parliament to announce to the world that he's been a little bit of a naughty boy and as a result has contracted AIDS he had the temerity to declare he didn't want a public out pouring of sympathy for being so brave……..
Fuck me. Let's really hope the Ruskies don't invade, on second thoughts….
Lloyd Russell-Moyle, in my 48 years on this earth I've had to endure some Uranium enriched piss boiling cunts but you've just muscled your way into my top 2.
Nominated by CuntyMcCuntface