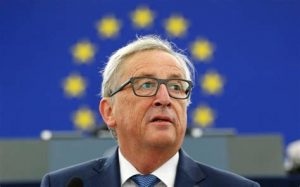 King Jean-Claude of Europa
I see that good ol' Jean-Claude Druncker has been up to his tricks again.
He's been accused of 'acting like a medieval king' after footage emerged of him fondling the hair of the EU Deputy Chief of Protocol, and then kissing two other women on his arrival at the latest bigwig EU summit. He was then caught on camera immediately afterwards making bizarre shoulder hunching gestures.
King Jean-Claude of Europa, or just Clown Prince Benny Hill of Brussels? Well have a look and judge for yourselves.
https://www.thesun.co.uk/news/brexit/7981345/bizarre-footage-shows-the-man-holding-uk-hostage-ruffle-womans-hair-as-he-arrives-for-crunch-brussels-talks/
I think that it's about time we exercised our democratic right in a free society to vote this jumped up sot out of office. Er, hang on a sec…
PS No I haven't got a fucking clue what a 'Deputy Chief of Protocol' does either, but I suspect it pays a huge wedge in salary and expenses.
Nominated by Ron Knee