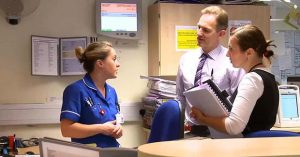 I hate irritating government watchdogs and other health authority busy body cunts who constantly criticize the NHS for not being good enough in patient care.
These cunts just go round hospitals ticking boxes suggesting that front-line support isn't good enough; or mental health is badly lacking; or out-patients are having to wait over 4 hours; or the ambulance service is slow to respond to calls; or there's not enough midwives ….and on and on and on they moan and criticize and belittle…
These cunts don't really ask themselves why the NHS can't cope; of even if they do they won't publicly admit it (growing population being one – but that's racist of course); and neither do they take into consideration the constant budget cuts going on in every hospital across the land; that specialist care is in short supply and expensive; that there's not enough trained people coming into the profession etc etc
But it also pisses me off how hard a lot of the NHS staff work in order to try and meet these unrealistic quotas and targets: front-line staff in A&E especially, who have to deal with a lot of ungrateful scumbags on a daily basis – especially all the pissheads & cokeheads at the weekends.
And then there are those cunty out patients who come in with a broken fingernail and make a great fuss about not being seen too within 10 minutes, and whinge on Fb about how shit the NHS is – even though they have probably never paid any contributions, but just love to exploit its free services.
Personally I think the NHS do a wonderful job (apart from management and all the other useless cunts in suits that don't do anything other than to meet those targets anyway they can); and those watchdogs can go fuck themselves with their complaints – perhaps they should spend 6 months on the front-line trying to cope with more and more demanding patients on a dwindling budget before publicly having a pop at a poorly performing hospital.
They certainly tick my box called "CUNTS"
Nominated by NoCuntForOldMen