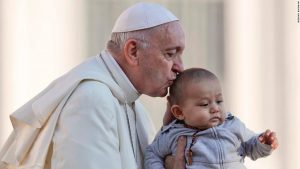 An angry cunting, if I may, for Pope Francis.
This disgusting apologist for paedophiles is now blaming 'the Devil' for thousands of his priests preying on children, calling on people to believe that the 'malign one', as he puts it, is responsible for decades of the most horrific abuse, actions that ruin not only the child's young life, but carries over into their adult life too, causing serious mental health issues, self-harm, self-loathing and suicide.
Let's not beat about the bush; in the year (of our Lord!) 2018, he's actually using a childish, cartoon-like representation of Lucifer as scapegoat for thousands of child rapists, warning believers not to dismiss Satan as merely a 'myth, a representation, a symbol, a figure of speech or an idea'.
And, of course, as only self-important tossers and pathetic halfwits continue to believe in any sort of organised religion, Catholics in general will seek to indulge the continuation of the abuse by dissociative rationalisation, believing their false narrative that once a priest has confessed his guilt to god, he is therefore absolved and will ascend into heaven, leaving a trail of broken lives behind him, his legacy protected by the corrupt cunts at the top.
Bollocks to Catholics and all religions.
Nominated by Thomas the Cunt Engine