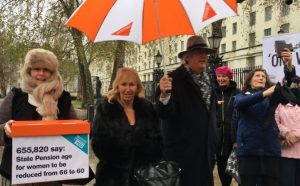 Now these ladies are pissed that they can not claim their pensions at 60 as promised, but they will have to wait until the same age as men to claim their pension. I can see that these people have been royally fucked over by the government but so has everyone else who have had their pensions pushed back from 65 to 66 and then 67 and for some it's now 68 and 69. What fucking gripes me is that these cunts desperate for their share want their pensions pushed back to 60.
Meanwhile the men they have grown up with (and maybe shared marriages et al with) could not claim theirs till 65 anyway. Fuck equality when it works against you, suddenly that can go out the window. So this is what makes my piss boil. These cunts (sorry women) should be fighting for everyone's pension male or female but no they are just fighting for their own. Selfish cunts.
Sorry ladies you wanted equality, you may have even burnt your bra to obtain it, but now you have it you realise that it's shit. You can't pick and choose when you want equality but you arrogant fuckers think you can.
Nominated by Cuntsince1066