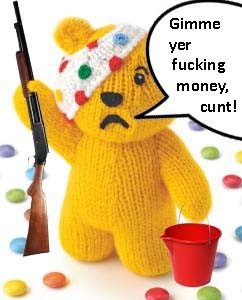 Well, it's that time of year again so I feel a cunting for Children In Need is in order.
Like most places my university are supporting this absolute wankfest, as they do every year, because they still have the stupid, idealistic view (the same view I once had myself) that this charidee is a force for good and a bastion of everything that's right with the world.
Well, it's not – it's just another corrupt organisation where the executives and other senior figures get paid eye watering salaries and fuck all money goes on the people they claim to help, which the usual luvvies and all the regressive cunts get to feel morally good and pure and virtuous about supporting.
Fuck this absolute cunt of a 'charity', and like I always say, if you want to give to charity – check out what the overheads are and give local.
Nominated by OpinionatedCunt