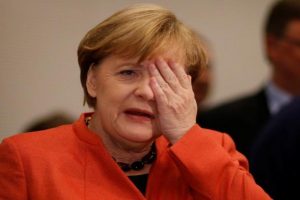 To; Angela Merkel
Chancellorfuhrer of The Fourth Reich
The Bunker
Berlin
Dearest Mutti,
I'm pleased to learn that you are not intending to seek re-election as Secretary-general to the Christian Democratic Union, although you intend to carry on as Chancellor of Germany until 2021.
In 1914 and again in 1939, your country sought supremacy in Europe through force of arms and failed both times, at enormous cost to those opposing you. The CDU has now governed Germany for thirteen years, and it is my belief that during your time as Chancellor, you and your puppets in Brussels have worked assiduously to establish German political and economic hegemony through the domination of the EU and its institutions.
You were well on your way to realising your dream until ironically, your own contentious policies turned around and bit you on your fat arse. Your so-called Euro 'rescue' policies have caused huge economic and social dislocation across the continent. Meanwhile your disastrous 'open door' policy in 2015 allowed over a million 'refugees' to pour in against a background of cuts in welfare provision, causing a huge backlash both domestically and throughout Europe.
Your national coalition managed to cling on to power in 2017, but woeful results in 2018 state elections have further reduced your credibility. Let's face it Mutti, your chances of hanging on until 2021 are slim indeed. You'll go with your cherished EU project unfinished. The EU does not have financial integration. The idea of an EU army is a dream, and the Euro is an unmitigated disaster which has wrecked havoc across a number of countries. The cracks grow wider. No doubt you'll do your best to fuck us over where Brexit's concerned, but the natives everywhere grow increasingly restless, and all the while your creature 'Fun Boy' Juncker and his cronies cling to the cherished belief that the answer to every problem is 'more Europe'.
Enoch Powell once said that all political careers end in failure, and it seems that yours, dear Mutti, is also destined to do just that. You've learned the hard way that people don't like uncontrolled migration, and they don't like being told repeatedly that someone in Berlin or Brussels knows better than they do what's good for them. You're a busted flush, a dead woman walking, a lame duck with a crumbling legacy. It can't go on much longer.
Auf wiedersehen pet, or as they put it more bluntly in the land of my good lady's birth, 'awa' hame an' throw shite at yersel'.
Yours,
Ron Knee