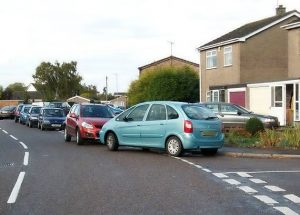 Unfortunately, every one of us of a certain age has become all too familiar with the attitudes and actions of the 'me generation'; those twats whose first and last thought in any situation is for their own interests, and fuck everybody else.
I nominate inconsiderate parkers as a prime and very common example of this selfish, self centred bunch of cunts. I came home earlier to find that some prick had parked across my driveway, preventing me from gaining access. When said prick returned a couple of hours later I pointed this out to him (quite politely), and received a 'fuck you' for my trouble from the turd (what used to be referred to a few years back as a 'yuppie' type).
You see the efforts of these thoughtless bastards everywhere. They park on the double yellow in the knowledge that they almost certainly won't get done, but if they do, hey, it's a few quid fine, what the heck. If traffic's hindered, too bad. You'll see them double parked with their 'flashers' on (that's all right, then) so they can just call at the atm or take that all important mobile call which can't wait a few minutes. You'll see them park in the 'disabled parking' only space at the supermarket because they're too fucking bone idle to walk the length of themselves. You'll see 'yummy mummy' causing chaos outside the local school with her Chelsea tractor parked five feet from the kerb. You'll see them bumped up on pavements, which makes life very difficult to those of limited mobility or in wheelchairs. I've even seen cars parked across fire exits; some people really do not give a flying fuck.
I sometimes even get angry with myself for being such a law abiding citizen, because nothing would give me greater pleasure than taking a Stanley knife to the bodywork or the tyres of vehicles belonging to these inconsiderate shits. 'Me generation'? 'Generation Cunt' more like.
Nominated by Ron Knee