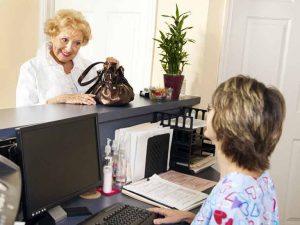 There appears to be a rare sub-human species closely linked in Darwinian research to Neanderthal Man who's only career option is to become a receptionist at GP surgeries across the country.
These people immediately turn into a cave man morphed into a traffic warden – possibly the most unpleasant example of sub-human excrement in society.
I have had the pleasure of accompanying my 82 year old mother on a trip to her caring GP surgery today and have encountered a typical GP receptionist which (if only) Damien Hurst were to cut in two and place in formaldehyde would send the art world into rapture looking at the words 'Total Cunt' running through the body like a stick of Brighton Rock.
'Leave me alone and sit over there' the cunt helpfully informs us as we arrive at 9.20 for her 9.30 appointment. Despite frequent reminders that we still have the misfortune of visiting their premises (and allowing the Practice to claim their Porsche money from HMG) and regularly being told to fuck off in all but words, lunch time rolls around and it is becoming clear that the cunts are going to fuck off to the pub having totally forgotten about us.
After 4 hours of waiting, a GP finally agrees to defer the pub lunch visit by 5 minutes and do a shit job of dealing with said Mum all the while we were having to put up with the stench of burning martyr.
Now I know why I personally avoid these places at all odds – I would be surprised if I have visited the fucking GP 3 times in the last 30 years – it really does feel that a slow and painful death is preferable to dealing with the god complex freak that sits behind the front desk.
Maybe next time I have to go there I will bring my shotgun…….
Nominated by Proper Cunt