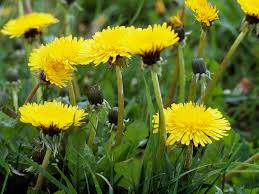 Hands up if you fucking well despise dandelions.
I love flowers and plants of all kinds, and while I'm the first to admit that I'm no Monty Don, I do enjoy a spot of gardening, a pastime which I find to be both relaxing and therapeutic. But one thing puts the mockers on it for me, and that's dandelions, those pig ugly little triffid wannabes.
We've had precious little rain these last few weeks, and gardens have started to resemble the Kansas dustbowl as most plants have shrivelled up and died. Not dandelions though, oh no. You've almost got to admire just how tough they are, harder than Jason fucking Statham and that's a fact. Get a drop of rain and they're like a rat up a drainpipe. There are suddenly hundreds everywhere, and you can hear them growing.
You can rip off their fucking sickly looking yellow heads, blowtorch them, dig them up and poison them, but you can never succeed in getting rid of them. Miss one flower, and you've got a 'clock' which scatters a thousand seeds to the wind. Flies envy their ability to breed that fast.
I'm not paranoid, but I reckon that Mulder and Scully need to get on to this bloody sharpish. The fuckers are out to take over I tell you…
(enter Mrs Knee with my meds and a soothing 'now calm down, dear, the doctor's coming…').
Nominated by Ron Knee