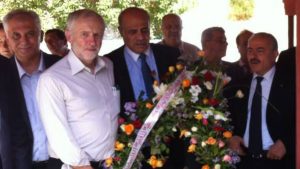 This entry requires no write-up; but ISAC rules demand it so here it is:
This terrorist-sympathising, extreme-left fucktard cannot even 'fess up to laying a wreath for a dead scumcunt bomber, despite the full and irrefutable photographic evidence available. A cunt of biblical proportions for even being at any such funeral in the first place; he manages to ratchet up the cuntmeter to the point of overclocking it by giving such a fucking withering and incomprehensible response to said photographic evidence.
I did not think it would be possible to despise a Labour leader more than Tony Blair or Gordon Brown. Yet Corbyn has already overtaken the Renfrewshire Cyclops as literal and figurative unflushable 'Number 2', now only behind the seismic deity of cunt himself.
I hear a lot of Tory voters or supporters now saying "I'll risk Corbyn just to get rid of May". As appallingly as Mavis May and Co. are handling matters, I can't emphasise enough what a tenth circle of hell shitshow this country would become – socially, economically, industrially – under the clown prince of cuntitude and his obese Momentum sidekicks. Think this country is being ruined by the liberals? Corbyn as PM will definitely ask you to hold his fairtrade hemp & lentil beer.
A man of such radioactive cuntitude that his mere presence emits deadly gamma rays of solid cunt, I give you Jeremy Corbyn. Fucking shitcunt.
Nominated by The Empire Cunts Back