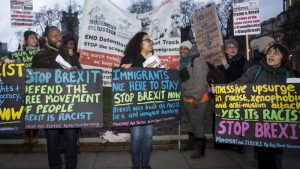 Our town like many others has a major infestation of Eastern Europeans.
Completely understand they want a better life and it is primarily the fault of Tony Blair and the EU that they are here.
It has got to the point however that in our town centre that on two recent trips, apart from the checkout women I did not hear one person speaking English.
Our local curry shop is opposite a Portuguese coffee cafe (the cafe was asked by the local council/police to remove a NO ENGLISH sign), which itself is next to a Turkish restaurant and dodgy Eastern Eiropean men's barbers. In fact this particular part of town has many cafes, barbers and ethnic food shops catering for our new arrivals. Tonight when having a meal was able to watch the behaviour of the cunts standing outside. All smoking, with disregarded cigarette buts thrown into the road or on the pavement. Cars parked on the double yellow lines. Men walking in the middle of the road forcing cars to slow down or stop. Lots of handshaking going on and loud shouting at each other. Mainly men, scruffy fuckers with tattoos and no manners.
These cunts are clearly not doctors or essential NHS personnel as the government would have us believe and as far as I can see have fuck all to offer this country. They clearly do not want to fit in with the locals, have no respect for those living here and act as though they own the place. They open their own shitty coffee bars, food shops and ethnic food shops which are no use to anyone but themselves. Pissed off about being continually asked in supermarket car parks whether I want my car cleaned. No you fuckers, quite capable of doing that myself. All cash in hand. Under the radar.
But it is the sheer fucking number of the cunts that I have a problem with, they are fucking everywhere and have taken over the housing in several areas of our town. And some groups of immigrants are not getting on with others resulting in street fights.
My wife told me recently she saw an Eastern European woman (she can tell by their clothes) squatting in the middle of the pedestrianised high street (outside M&S) urinating on the pavement. FFS.
Last year our local police commissioner said he was staggered by the disproportionately large number of crimes committed by Eastern Europeans, and the number that already had convictions in the home country (not picked up by the border control).
About three years ago had to fight to get our son into our local school despite living in catchment. First time EVER children in our catchment area could not get into their local school. The reason being that despite living in the same house for 25 years and both daughters attending the school up against immigrants who have been in the country for five minutes who cannot speak the fucking language and needed translators (at the taxpayers expense) have the same rights as the locals do, albeit have not paid into our system and have not been waiting in line like the rest of us.
Have never considered myself to be a racist and judge people as I find them. I am after all married to a Japanese lady.
But I can say in all honestly that I am fucking sick and tired and fed up to the back teeth with Eastern European immigrant cunts. No skills, no manners, no respect and not fucking wanted.
Anyone who tells me that immigration in its current form is good for this country is either ignorant, a liar or is only about the money and fuck everything else.
Nominated by Willie Stroker