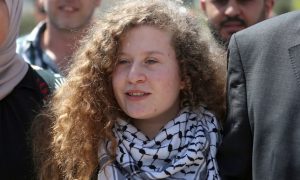 This little Palestinian shit has been taunting, spitting at and physically abusing Israli soldiers from the age of 11.
Aged 16 her actions got her incarcerated and put in chalky for a few days. Had social meejah and mobiles phones not been the world's camera then I am certain the butt of a M16 (or similar) would have sufficed.
However, this is not my main reason for cunting this girl, no.
My main reason for cunting this red haired, green eyed and fair skinned girl is because she is no doubt set to become the poster girl for the bomb-making Palestinian "peaceful" cunts that the AL-BB-CERA and other cunt neo-liberal news outlets will jump on to say: "Look, see! They're just the same as us!"
No, no they're not.
Little miss punchy-bitch is no doubt only tolerated for PR purposes by the Imams of that shithole. Had she not garnered this attention then I would expect that her clit would be removed and her flaxen locks and green eyes covered by a bin bag walking 20ft behind her 40yr old husband (who also likes a bit of under-aged boy action on the side).
Also – if you see this cunt in action on the AL-BEEB – please note how she continually looks behind herself, directly at the cunt filming her, several times per shot.
Staged??? Surely not. And at no time do any of the soldiers even try to defend themselves cos they're that bad. I'd love to see her do the same in Mogadishu or Riyadh and see how far she got before the stones were thrown…
Maybe I'm just a cynic who's fed up of our Old Testament allies getting the continual shit end of the stick from media outlets and press agencies who – for some complete and utter mystery to me, and anyone with sense – pontificates to "peacefuls" like they're the world's saviours.
Well they're not. They're at the complete opposite end of that particular grace spectrum!
Cunts!
Nominated by Rebel without a Cunt!