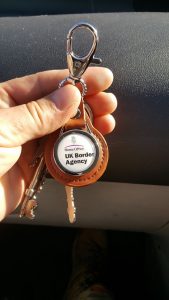 I am going to nominate a key fob
Now I was given a key fob by an acquaintance. we all like to please and use the gift given.
I took my car down the car wash big mistake, next thing you know it's tumbleweed time, they all fucked off leaving partially washed cars and yours truly high and dry with a dirty car.
However I must admit I did this on purpose after the first reaction at my local kebab shop.
Pulled up went in ordered my food , the guy at the counter spoke to the cook popped out the back for a fag and 15 minutes later no kebab and no staff.
The reason as far as I can tell would be my key fob.
It says "home office border agency" they are available on e-bay (item number listed below)<
However don't buy one unless you are willing to wash your own car, have a barbeque and don't like curry!
Nominated by Lord Benny