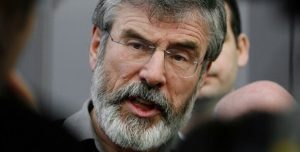 Gerry Adams is a cunt…
Of course we all know he is, but now this twat is whining because he's getting a bit of overdue payback… Former Sinn Féin president Gerry Adams has called on those who attacked his home to meet him…. Adams asked those responsible to have the "gumption and guts" to meet him and explain their actions….
Explain their actions? Like his IRA mob of murderers explained killing military personnel, police,civilians, war veterans, pensioners, children, and royalty alike? Not to mention attempting to murder the British government, and bombing British cities and ruining several businesses and buildings in the process… This piece of Fenian filth has absolutely no room to whine about being attacked by anyone… Cunt!
Nominated by Norman