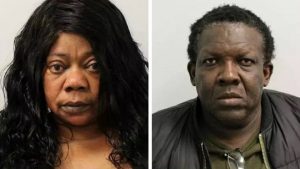 This was on the BBC (they even had enough space on the day when Trump came to the UK) therefore these people must be Uber cunts and I mean UBER CUNTS.
I'm not going to write anymore but If this don't make your piss boil then nothing else will.
Nominated by Cuntsince1066
Douglas and Brooks, two Jamaican nationals of no fixed address, were put up in hotels for almost a year and handed pre-paid credit and travel cards, all paid for by the Royal Borough of Kensington and Chelsea. Douglas and Brooks were also both housed in the Radisson Blu hotel in Kensington.
Douglas claimed a total £67,123.35 of relief intended for victims of the fire. She spent 276 nights in the Radisson Blu in Kensington, costing the council more than £55,000, and spent more than £11,000 on a pre-paid credit card she was given when she complained about the hotel's food.
Brooks claimed £58,396.89 of relief and stayed in the Radisson Blu and another hotel for 243 nights. He also spent more than £9,000 of charges on a credit card.
And here's the punch line : The court heard Brooks and Douglas had managed to avoid immigration authorities for 16 years after entering the UK illegally in the early 2000s. FFS!
Brooks was sentenced to three years and three months in jail, while Douglas was sentenced to three years. So that's three years in a nice comfy bed with three free meals a day thrown in at the taxpayers expense. They should deport the cunts back to Jamaica and make them serve the sentence there.
Nominated by Pedantic Cunt