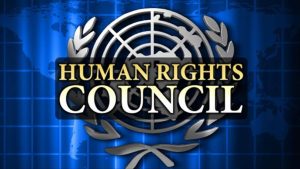 A cunting for the United Nations Human Rights Council.
Below are some of the members:
Afghanistan
Angola
China
Cuba
Democratic Republic of the Congo
Egypt
Iraq
Kenya
Pakistan
Qatar
Saudi Arabia
United Arab Emirates
Venezuela (Bolivarian Republic of)
There are also some actual democracies on the council including the UK but no longer the USA. Trump sees it for what it is. How can any of the countries listed above decide on Human Rights? Shitholes of repression one and all.
Israel is often criticised by this lot. Fair enough you might say, Israel does have a lot to answer for. But compared to this lot it is a beacon of fairness and good practise.
I cannot understand the hypocrisy and pretence that the UK or any other democracy demonstrates by rubbing shoulders with this lot regarding human rights.
Cunts.
Nominated by Cuntstable Cuntbubble