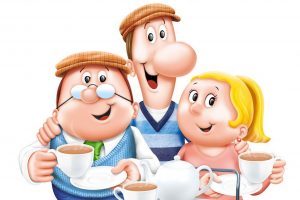 PG Tips and Tetley are both utterly idiotic, lefty cunts.
I've just had to remake my cup of tea 4 times and boil the kettle twice just to make 1 cup.
Why?
Coz the fuckin bags keep splitting.
I just thought I had a bad batch but on further investigation I found out that the stupid deranged lefty cunts have removed all plastic from their bags and replaced it with (non waterproof) biodegradable tissue paper.
Has it not occurred to them that the plastic was in there for a fucking reason?
Well it was you cunts and now your tea bags are shite!
Pg tips is owned by unilever – Dutch cunts.
Tetley is owned by Tata – the shittest CAR company in the world. It's fuckin Indian for crying out loud … the cunts can't even DRIVE a car, let alone MAKE one …
And what the fuck is a CAR company doing trying to make fucking tea?!
The Americunts bought up our prestigious chocolate company, Cadburys … the inventors of chocolate … and then proceeded to fuck up all the recipes.
Apparently the Americans weren't too keen on the taste and wanted it more like theirs.
Well FUCK YOU!!
If you don't like it fuck off and make your own and stay away from our shit you cunts …
Anyway.
…. I digress.
(Sorry about that, this tea is weak so I'm getting stressed).
Unilever.
Tata.
HANDS OFF OUR FUCKING TEA ! ! !
Why don't you just do the world a favour and go kill yourselves.
Some things piss me off.
Some things boil my piss.
BUT MESSING WITH MY TEA ….
*deep breath deep breath*
I'm switching to Yorkshire tea.
…though no doubt some Americunt or white flag waving fucking frog will come and buy that too.
CUNTS!
*sigh*
I need another cuppa but I don't have the patience …
On further investigation I've just found out that all of this shit was started by a cunt called Michael Armitage, a CUNT … Sorry, GARDENER … from Wrexham.
Apparently they don't biodegrade when you throw them on the compost heap …
DON'T THROW THEM ON THE FUCKING COMPOST HEAP THEN YOU TWAT.
230,000 cunts signed his petition ….
Unilever's solution?
Non waterproof tea bags.
Seems the whole world is full to brim with cunts……….
Nominated by Deploy the sausage.