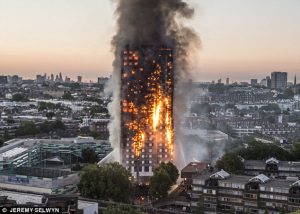 The Grenfell Tower Inquiry
Bugger me switch on me telly and every channel wall to wall with mendacious silence and hushed respect. M'Learned Friends talking very slowly (out of respect surely, not to drag out every syllable for as long as humanly possible to maximise their exorbitant fees). This is the Victims Statement part of the Inquiry which will go on for TWO WEEKS. Double bugger me.
The causation of the whole inferno fiasco is as plain as a pike staff in me humble opinion, dear old bribery and corruption within the building industry. Have spent many years navigating that paddy infested swamp which is fuelled by the back hander. Not just for the cunts that award contracts but at every level from Architects and Planning to Building Control to the dodgy Councillors on Committee and our upstanding MPs to the pig shit thick paddy that pours the concrete. Payola all round. Nice if you can get it.
We all knew about the in flammability of aluminium decades ago. Under the right conditions – plenty of oxygen and high enough temperatures – thin skins of ali will go like fuck. Certain WWII aircraft were notorious for their pilot toasting abilities if they got going eg Spitfire. Worth remembering that the Hindenburg airship had ali structure and ali dope on its fabric. That was toasty.
Problem is in the early 2000s all the sensible building controls that Yours Truly spent many years avoiding were all swept away and replaced by…well nothing really…and your health and well being placed in the honest hands of your sweet heart Developer. The industry entered a new era of control by market forces and self regulation. Whoopee.
Good News is we need no longer worry if our drains have been installed the right war round, our foundations our deep enough, the reinforcement is in the right place and has enough concrete cover and our insulation is non-flammable. Simple put we are all fucked in a post 80s building (70s not too clever either) so London Blitz spirit and get plenty of insurance…ah except the insurance game is just as fucked and crooked if not more so. Note to cunters if you have to make a claim go directly to the insurance assessor through your own claims manager and have large wads of used £20 notes available. You know it makes sense.
Nominated by Sir Limply Stoke