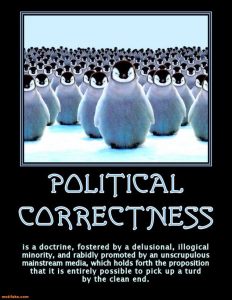 This is the end of our world as we know it. We aren't under attack from aliens. Nor are we facing the prospect of a zombie apocalypse or another ice age. The extinction of humanity is already well under way and it's only a matter of time before the world comes to an end. We are under attack from a well known sub-human mutant species who have plagued society with an absolutely atrocious and horrendous disease called… political correctness.
We live in a world whereby simply saying "hello" to someone carries the risk of facing a sexual harassment charge if you say it to the wrong person. A world where your life can be turned upside down by saying the 'wrong thing'. The humiliation, the gossiping and the shit-storm that ensue through means such as Twatter or Fuckbook can drive an innocent and misunderstood person to insanity and even death.
One of the worst cases I have ever come across involves West Indies cricketer Chris Gayle and an uptight sports presenter. During an interview, Chris Gayle said to the sensitive old bint who was interviewing him: "I wanted to see your eyes for the first time, hopefully we can win this game and then we can have a drink after as well". These were his exact words. In no way, shape or form can they be considered even remotely inappropriate. Well, not according to the members of the aforementioned sub-human mutant species. Not only have his comments been deemed 'inappropriate and disrespectful' he has also had to deal with the shit-storm from these mutants. On top of that he has also been fined just under £5,000. Yes, you did read that correctly. £5,000!
This mutant cult are gaining power rapidly and it's only a matter of time before they take over the world and destroy it. In the next few decades the world will likely become a barren, desolate wasteland where anyone who doesn't conform to their ways of political correctness and all the other shit that comes with it will be banished; either to the pit of eternal fire or sentenced to a lifetime of slavery and extreme torture. It wouldn't come as much surprise if new devices that control what you say and what you see will be made compulsory and installed into everyone who is non-mutant.
It's time to take action and fight against these far-left mutants which consist of SJWs, feminazis and various other snowflake cunts. It's not too late to stop their path of mass destruction and vile brainwashing. They cannot be allowed to gain any more power and control. Let's put an end to these cunts before it's too late.
Nominated by,Jayniño