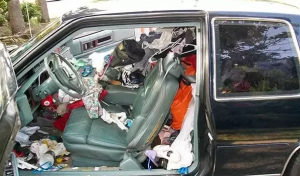 People living in vehicles need a cunting.
In Bristol there are loads of cunts living in 'Converted' vehicles, Caravans, Old Minibus' etc. Some of these vehicles have coal burning heaters/stoves and some cheeky cunt actually advertised a 'Converted' vehicle for rent. You'd think that it was Pikeys (which would have the bonus being able to buy the odd 'Off the back of a lorry' goods) but it's not its white middle class cunts and there all over the place, there are a load near Ikea, fuck knows what the toilets are like after these scruffy cunts have used them. I know there is a housing crisis but these cunts should fuck off to the countryside where Farmer's may be able to employ the cunts and pay them in Apples and pears. Seriously there are loads of these cunts and there was a serious fire in one the other day with a possible fatality.
If I sat in my car and started a barbecue and the old bill saw I'd get arrested, so why are these cunts allowed to burn coal in a vehicle. Some of these vehicles have chimneys so it's obvious. What will be done abaaaaaht it? Fuck all. If it were a load of Somalians there would be houses built in record time for them, so the governments are cunts as well. What a pile of cunt.
Nominated by Black and White Cunt