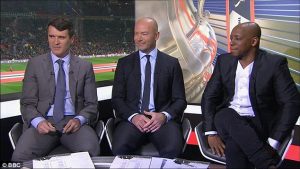 Some intensive cunting for BBC sports panel discussions is necessary. For those of you who don't waste your time watching the shit on offer on the Beeb, a BBC sports panel comprises 4-8 people, invariably chaired by Claire Balding or Gabby Logan, who witter away endlessly and inanely about whatever sport you want to watch when you could actually be watching it.
Yesterday I had the misfortune to endure possibly the most retarded discussion I've ever witnessed. It was about the cycling points race which, if you have something vaguely resembling a brain, isn't particularly difficult to understand. If you're Rebecca Adlington, however, it is particularly impossible to understand. Fair enough, I'm sure most people don't know or care about this particular race but why the fuck must this chatter be broadcast on a Saturday morning when most people want to watch the before-mentioned cycling/swimming etc. Surely the red button can be used for those with a fetish for talking cunts rather than for the actual sport?
If you missed it, the conversation in question consisted of one of the cycling 'experts' explaining to old rubber-face how the points worked, which resulted in an arseful of shrieking and giggling and Adlington bleating on Stacey Solomon-style about how they go fast and they go slow and fast and slow and why don't they just go fast? Hahhahahaha – then someone else said they go slow so they can have a cup of tea, cue more shrieking and giggling, then some other cunt said 'didn't you see them pass the biscuits around?' cue more frenzied giggling and shrieking, all the while Balding stuffing her fat head into the picture to bombard us with shit fucking one liners.
When they finally show the odd race, it tends to be followed by a 25-minute interview with whichever Welsh/Scottish/English bint came fifth and hopes to do better the next time but is so amazed that she's there in the first place and everything is so awesome hello everyone back home etcetera etfuckingcetera.
The one exception to this is Michael Johnson, who has a talent for in-depth analysis that would shame a NASA scientist. How the fuck he can put up with the rest of the twats on offer is beyond me.
Nominated by Galted Asas