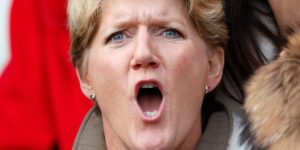 Balding again. I really really can't fucking stand the cunt. Along with all the BBC, C4, BT posh shit that of course naturally slithers into her heron sized gullet. Horses, Dogs, anything else she can boot someone else out for (Inverdale).
Todays trigger was accidentally tuning into and seeing the hideously posh future captains of industry and rapists of our world embarking on their monumental task of rowing up a river. A river! And who was there (and I knew instantly who it would be) to spit in my eye?. Desperate Dan again. Once again with her mock jolly hockey sticks banter and "I'm continuously amazed how wonderful it all is" delivery to accompany her disgusting whipped and lacquered Ray Mears quiff.
I'll never rest easy till I see that cunts head on a spike in the bottom of my garden for the birds to feed on. I'll chuck the rest out for the street foxes.
Nominated by Slinky Pinky
While I'm here, I want to nominate Clare Balding for a cunting. To say this man faced dyke is overexposed is like saying that Pepsi is a bit fizzy. In the past few months she's been at the Lord Mayor's parade, she's been at the winter Olympics, she's been at the boat race and now she's presenting the commonwealth games. She even presented Crufts for fucks sake. Though that's probably because she wasn't allowed to compete. If some perv flopped his cock out in front of the BBC studio at Salford Quays, she'd be there presenting it. And it's not just the fact she's rarely off our TV's, there's also the fact that she's presenting at events she knows fuck all about, and comes out with the most ridiculous and inane comments. The kind of comments that Naga Munchetty would consider intelligent.
It wouldn't surprise me if she turned up at the World Cup. I'm pretty sure she'll be in Tokyo for the 2020 Olympics. Though, considering muff diving is NOT an Olympic sport, she should be kept well away from the aquatics centre. Horse racing, that's what she's qualified to present. Her dad worked at one of the Queen's stables and she was raised around horses. Apparently though, he had to quit because the grooms kept trying to feed her sugar cubes.
Clare Balding, get the fuck off my TV screen. You cunt.
Nominated by Quick Draw McGraw