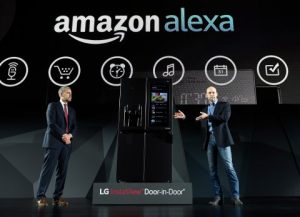 Ok, not the biggest cunt on the planet, but I'm nominating Alexa, that presumptuous piece of voice activated techno-junk marketed by Amazon. Apart from the terminally bedridden and cunts like Stephen Hawking, I cannot see how this snowflake piece of shit can benefit anyone, apart from the usual suspects, the lazy, the stupid and the tax dodging manufacturer… Whatever next, self driving cars? Oh yeah.
With Alexa installed in your home you'll never again have to move more than 6 inches in any one direction in any one day, which means if you're not already a stinking Cyril Smith sized diabetic charge on the public purse, you bloody well soon will be.
Btw, did you know, drugs for diabetes cost the taxpayer around £3million a day – that's a £billion squid a fucking year – almost 10% what we piss down the EU shitter, year in year out, NET!
However, you won't glean any of that from the smug adverts (almost as vomit inducing as John Lewis'). Not one obese cunt or health warning in sight, just nice 'normal' Remaineresque famblies who can't even be bothered to turn the bleeding lights on and off. And then there's that condescending voice, about as user friendly as Chris de Burgh singing Lady In Red, cunt.
Which reminds me. A couple of weeks ago the wife and I were obliged to attend yet another irksome family funeral. At the reception afterwards I was assailed by a cousin down from Scunthorpe (mum's home town – dad used to joke how he'd "took the 'cunt' out of Scunthorpe, ha-ha"). To the accompaniment of Lady In Frigging Red on a loop tape (Christ sake!), said cousin proceeded to traumatise me further by droning on and on and on about the tiresome Alexa thing wired up in his gaff 175 blissful miles away.
I'd normally have Spring Heel Jacked it over the back wall within 5 seconds of the cunt opening his noodle shute – or possibly enquire as to whether the gadget actually did anything life enhancing… like pull you off, or punch distant relatives very hard in the face!
But sadly those options weren't on the menu cos the wife was glaring daggers so I had to default to plastic robot 'best behaviour' mode, and oh fuck, what if the cunt is reading this? Cos there's some proper hard bastards on my mum's side of the family.
"Alexa – please confirm Mr Creampuff's Dignitas appointment – the Cunters have suffered his guff e-fucking-nuff!"
ALEXA: "Appointment confirmed."
nominated by, ruff tuff creampuff