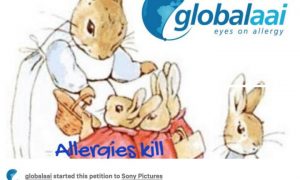 I cant believe I'm actually writing this, but yesterday I had the misfortune of trying to keep up with what's going on in this cunty world in the firm knowledge that something or other would make my piss boil. Maybe Junker the Drunker waddling about like the EU's version of Sepp Blatter taking the cut out of everyone? No! It wasn't that. Maybe Barnier looking about Downing Street like some elitist cunt being showed where Fagan once lived? No! It wasn't that. Soros pumping half a fucking million into reversing the most attended democratic fucking vote this country has ever seen ( sorry Fred West )? NO!!
It that the fucking libtard snowflake cunts are boycotting Peter " trap me / choke me / skin me / roast me / enjoy me whilst camping …Peter fucking Rabbit "… because it promotes…wait for it….. " Food intolerance bullying "
WHAT THE FUCK !!!!!!! The wee imaginary talking rabbit whom we see most days in 2D form on our national roadways looking like some posh cunts miniature bear rug spread out before our eyes as we thump over it at 60mph…flings some blueberries at some other pixelated cunt on screen that doesn't like blueberries……… and off goes twitter in a fucking apoplectic meltdown on food alergy oppression and bullying.
"My wee bairn has a food alergy….. we will boycott this until Disney apologises"
Fuck me! I'm a Scot and we have an intolerance to almost anything you can call food!
If some cunt threw rice at a Scottish Wedding we'd all come out in fucking hives and rashes, rolling about the floor dousing ourselves in whisky and Irn Bru! So fuck off you snowflake, neo liberal, inferiority complex suffering fucks.
Cunts pure and simple
If I get 6 months to live from a doctor then unfortunately there is also others with that diagnosis because I'm going postal.
If we tolerate this then I'm afraid its not our children next, we're next, its accelerating at an unstoppable rate
Nominated by Squint Cuntwood