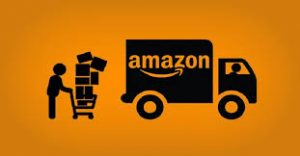 Amazon's "service" has deteriorated to the point where it would be more pleasant to crawl into town over broken glass, wrestle my way through the unwashed hordes, put up with ignorant shop assistants and then be towed home by my bollocks than to order from them.
Their delivery options are "Free" (timescale: sometime before the universe cools), "Standard" (sometime before the 1st anniversary of your order), "Next Day" (within the next month), "Express" (within the same week – if you're VERY lucky).
Their systems are absolutely fucked. I placed an order on Monday 5th for 4 items and paid for Next Day delivery. 2 of the items arrived on Wednesday 7th (quite where in the fucking universe Wednesday follows Monday I don't know). The other 2 showed as "Out for delivery".
They are now (on Thursday 8th) showing as "Due Wed 7th".
Clever fucking trick if you can do it.
This is not the first time this has happened and I'm sure there are others with worse experiences.
That cunt Bezos – who, incidentally, looks like a Malteser on a fucking stick – needs to spend less time trying to get people into space and more time getting Amazon's fucking goods to Yorkshire.
Cunt. Off. Amazon.
Nominated by I Hate This Cuntry