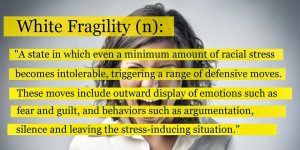 I wish to nominate "white fragility" for a cunting on the award-winning website ISAC.
The internet is absolutely awash was made up terms by fuckwits to make other fuckwits feel bad. Dislike a medievalist religion that treats women and unbelievers like shit? You have Islamophobia. Don't think cutting off your knackers and wearing a dress makes you a woman? Transphobia! Are you a well-known Australian feminist with fairly ordinary opinions about transgender 'women'? Misogynist!
I thought 'intersectionality' was the maddest piece of shit on the internet. (For those of you who don't know, that's the idea that having different forms of butt hurt makes you top of the pile in Victimhood Top Trumps). But bugger me butler, I was wrong. Apparently, if a white person says they are not a racist that is evidence that they are a racist! This insane idea is called "white fragility." Fuck me up the fucking ass with a fucking rusty fucking fish fork.
I'm off to buy an island and I am going to put up a sign saying "No cunts allowed."
Nominated by Cunt's Mate Cunt