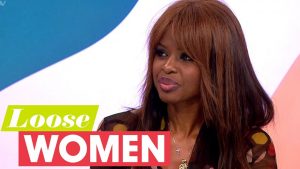 Occasionally I watch the pledge on sly news.
I only watch it for Nick Ferrari (The king), that businesswoman from hull, Michelle Dewberry (who is quite hot and wise by the way …my dream woman) and Carole Malone (that always puts up a good fight on the side of common sense).
They are the only ones that speak any sense. The rest are cunts, but kind of ok in a "you're a cunt, but not to the point that I want to kill you" kind of way.
Boris Johnson's sister is an anti democratic cunt that hates brexit and everyone that voted for it, and I'm sure would be quite happy to see the UK descend into civil war just as long as her beloved Reich kept us under their jack boot. She is an utter, good for nothing cunt, but she seems ok.
…how can this be?
Well, she's only ok because everything in the universe is relative and she's only relative to the biggest cunt at the table.
That cunt is June Sarpong.
This cunt is the epitome of lefty cuntitude. A British hating, utterly idiotic cunt that thinks she's "intelectual" or "important" just coz she has a big mouth and hates our ancestors.
June Sarpong is famous (apparrently) coz she was on loose women.
Quite how being an idiotic, loudmouthed cunt, talking shit on a programme only watched by cunts that aren't at work when they should be, constitutes being considered worthy of political debate is way beyond me.
Then, for some unknown reason, some twat decided to put the cunt on national telly (at a time when people that work for a living are watching) to discuss her fucked up opinions…
These are some, but not all, of the reasons that I think that she's a cunt:
She's writing a book called "diversity".
I don't need to read it to know that it's going to be shite.
Apparently Britain has a failure to "embrace diversity".
Huh? …you've done ok out of it you cunt, and if you're so oppressed please feel free to fuck off anytime you like.
Besides. You know full well why we hold back from "embracing diversity", as will be confirmed further down.
The cunt defended Keith Vas-been on loose cunts, and even they were pissed of and thought she was a cunt.
We all know what cunts they are. And if you're an even bigger cunt than them, then you're some kind of goliath of a cunt that should just get the fuck off the telly and find someone else to wind up before the whole nation cunts you off to oblivion.
She went out with David Lamy and HE dumped HER. How much of a cunt do you need to be to get dumped by DAVID fucking LAMY? …The cunt won't even split his tongue from junkers bumhole without crying like a bitch.
Maybe her cuntitude was too hard-core, even for him.
Apparrently they still get on well.
That makes her an even bigger cunt.
She's one of those typical "I love the EU" cunts. Constantly defending them, then moaning about rich, white people ruling everything and not giving the "poor" and "minorities" a say. …Twat.
I can't be bothered look up everything she's said on the pledge but trust me.
Common sense? … NO, RUBBISH.
Reason? … NO, BOLLOCKS.
White people? …NO, CUNTS.
(Stated more subtly that that obviously, but you get the drift).
Just watch it for 30 seconds and you'll see what I mean, which brings me onto this:
This is by far the biggest reason that I think she's a cunt.
When discussing the constantly offended and mob justice going around at the moment, the issue of the Rourkes Drift argument was brought up.
Most agreed that it was cuntish and I'm sure all you cunters agree that it was just another pathetic capitulation by the weak cunts of society giving into the twitch fork mob.
June the cunt said:
"I agree completely. Why would you celebrate colonialism?"
CUNT.
Those men sacrificed their lives for this country.
The institutions, rights, laws and freedoms that we have are all built on the lives that were sacrificed to build this country.
When the boys (and girls) are sent to Iraq, Africa or whatever other shithole, they don't do it out of animosity for that country or it's people. They do their job. They do it out of love for THIS country and EVERY person that sacrificed their life for this country deserves respect.
The only thing she has going for her is that she's not quite as much of a cunt as Arfua Hirsch (thorough cunting currently being formulated), who is, in my mind, just about the biggest cunt on earth.
But that doesn't take away from the fact that June Sarpong is a 42 carat, weapons grade, class A, goliath of a cunt.
Nominated by deploythesausage