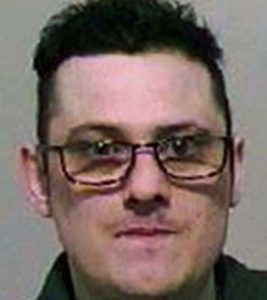 Emergency cunting for Paul Leighton.
Looks like a sex offender, doesn't he? Well, he is.
Kiddy-fiddler? Rapist? Nothing as simple as that, fellow cunters. Leighton had set up between 30-40 fake teenage aliases (both male and female) on Facebook which he used to befriend young teenagers all over the world, from whom he solicited nude photos and/or compromising videos. As soon as the images were obtained by Leighton, he immediately began to blackmail the senders, threatening to send their pictures and videos to all their Facebook friends and families if they did not immediately comply with his demands.
And what were those demands? Here are a few examples –
Leighton coerced a terrified 15-year-old American girl into abusing her 10-month-old sister while he watched and filmed the abuse via webcam;
A 14-year-old boy from Florida was instructed to repeatedly rape his 12-month-old niece while Leighton watched/filmed via webcam;
A 13-year-old girl in Tennessee was blackmailed into having sex with her 19-year-old brother while Leighton watched/filmed via webcam.
Leighton admitted three counts of rape as well as numerous other offences, including blackmail, causing a child to engage in sexual activity, making indecent photographs of a child and sexual assault. Plod believes he had more than 100 victims in North America alone, but found evidence that he had also blackmailed kids in the UK, Australia and New Zealand.
Two days ago he was sentenced to sixteen years which to my mind seems a bit on the lenient side, so I'm inviting suggestions for more suitable punishments for Leighton…
Nominated by Fred West.