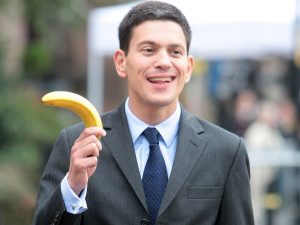 David Miliband is a bit of a cunt, isn't he.
The former Foreign Secretary and all-round failure has called for a second referendum (sigh) on Leaving the odious EU, a mere 14 months after the country democratically voted to say Goodbye to the rot.
Furthermore, this junkie-for-failure, ever greedy to be on the losing side, has called Phillip Hammond (craven, bollockless traitor) "valient" and wants his "vital" support. Come again?
After losing his Government place and subsequently being Macbethly knifed in the back by his equally twatish brother, 'Miliband The Even Shorter' went to live in America where he made loads of more money and was continually unaffected by Immigration.
What a noxious, privileged Muppet this chump has turned out to be. Even Steptoe, your leader, when not pretending to be a hybrid of the cash-supplying Tooth Fairy, the Easter bloody Bunny and Father Fucking Christmas has heavily implied we should get the fuck out, quickly.
Everything this berk touches turns to shite. It's as if he's got the reverse Midas touch. Remember when he was paid 50 grand to be a non-executive of Sunderland F.C. Well done, Dave, that went well, didn't it.
Wipe off that ubiquitousshit-eating grin, piss off back to your cushy life in the States, and shut the fuck up about last year's referendum, you tedious, short-arse cunt-nugget.
Nominated by Captain Magnanimous