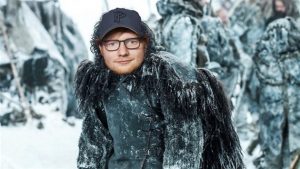 Ed Sheeran is a gargantuan cunt…
Now there are so many reasons to detest this tuneless ginger bollocked gargoyle, but now this cry baby gnome has left Twitter…. Because people are sending him nasty tweets and reading them has been ruining his life….
Seriously….The cunt is a millionaire many times over, even though he has the talent and the charisma of a fresh dog turd in a heatwave…Yet nasty comments have been ruining his life?! Is he that much of a fairy princess cunt?!
Some folk have took the piss out of Sheeran's 'appearance' on Game Of Thrones… Quite a few have said what a self important ballbag he is, so diddumspoos has deleted his Twatter account… He really is an oversensitive, emotional dwarf, isn't he?… The piece of excrement that is 'Galway Girl' was panned and he spat his dodie out over that too….
So he wants fame and all its perks and trappings, but can't take even the slightest bit of criticism or humour at his expense?! Fucking frog faced ginger cunt….
Nominated by Norman