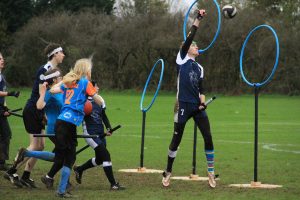 I would like to cunt quidditch – not the game in the Harry Potter films but the 'sport' played in the real world by cunts.
It has its own official rulebook a world cup and a UK premier league is about to start up. The game is non contact and mixed gender so ideal for student types.
It's another way for snowflakes to escape the awful world they find themselves living in. What better way to forget Brexit and The Trump than to run around with a broomstick wedged between your arse cheeks.
Wikipedia have a page on it if you can be arsed.
The tidal wave of cuntishness continues.
Nominated by: Mahatma Koat