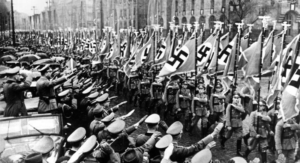 Can I cunt the creation of a huge new German, sorry, I mean EU army?
What you will have with an EU army, if you get to the bones of it, is an army with the combined military power of Italy, France and Germany, to name the main players but including 20 odd others extra.
It is not needed due to NATO, so you have to look at why the cunts want it.
The Germans rule the eu.
The Germans will be in control of this army.
It will be an enormous structure to rival the US military in time.
It will have laws enabling its deployment at short notice, or it would be useless.
So what you have in essence is a huge military force in Central Europe, controlled by the Germans and yet under an EU flag and so isn't answerable to German Parliament. This can be deployed by unelected EU officials on paper, so the people have no control.
By Germany having financial control over the EU, they now have bought the loyalty of the rest of the EU. They have conquered Europe by financial means.
The EU would like to expand fully into Russian territory. Hence the mess in Ukraine.
Germany-expanding into Russia.
Ring any bells?
Take your seats for round 3.
Just think about the republic army in the shit 2000's Star Wars trilogy. Turned into storm troopers didn't they?
That's the EU.
Nominated by: Lord Ferrigno