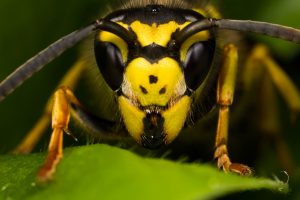 It's a lovely September day today. The sun is shining, the weather is warm but not hot, perfect for sitting out in the back garden with a drink and a couple of newspapers. But you know what, it isn't a perfect day, because of one minor thing, and that is wasps. The little cunts are everywhere – wasps buzzing around my bins, wasps buzzing around the windows, wasps buzzing around the washing, everywhere there's fucking wasps.
Wasps – what do they actually do? Apart from sting people and scare skittish folk they seem to serve no purpose or function whatsoever. "Oh, that's not fair!" says some twat in a beard, "wasps kill all the garden pests and play an important role in our ecosystem! We should love wasps!" he squawks from inside his beekeeper suit, repellent in hand. "Well, twat in a beard, my garden consists of a couple of lawns and a few dead shrubs, so what use are wasps to me?", I reply, to be greeted by silence and vague mutterings and curses.
So wasps are basically the delinquent hoodies of the insect world, doing sod all apart from hanging around where they're not wanted and making people feel nervous – they even have bearded idiots of a left-leaning persuasion sticking up for them, just like your common chav.
So there's no escaping the little cunts, and until the real cold weather comes along they'll be there, getting on my wick and costing me a fortune in Raid.
Little cunts.
Nominated by: Colin Murray's Brain