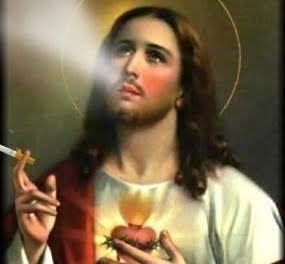 Jesus will never come back here to sort shit out. Think of it from his point of view:
"Yo dad! I ain't going back there, no fucking way man! They're still carrying those fucking cross things around just on the off chance I do turn up and they're ready to string me up again dude! No way! Anyway I was having a chat with Mohammed next door and they're busting to the rafters with these virgins. Everyone of them male, between 18 and 24, all gunshot victims, totally sad dude! Hey when a new one arrives you can hear the rest say "Doh! Another man!", yeah like fucking "Doh!" man like that Homer Simpson dude! Anyway he was wondering if we can take a few of them off his hands cos…….er….no, he's already had a word with Satan but he doesn't want the cunts either man!"
Nominated by: Rebel without a Cunt!