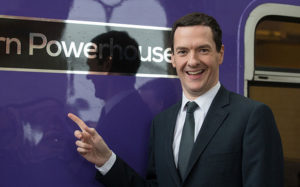 About 8-10yrs ago the "Blown" Labour govt gave us Northeners a vote on if we wanted a "Northern Assembly". They were so cock sure that us "thick as pig shit folk" would go for it they had fatty two-jags swanning around up here, not so much drumming up support for it, as doing a victory lap like it was a done deal.
It was resoundingly rejected, it wasn't even close, something like 70% of the folk who voted, voted "no, fuck off you cunts!"
Now we have the current incumbents banging on about a "Northern Powerhouse", except this time we don't get the right to say "no, fuck off you cunts!"
And to add insult to injury it is being championed by slimey Gideon Osborne who cares about as much about the North as I do about "peaceful" cunts drowning in the Med!
You think us Northern folk would be "mad forrit" but no, and here's why:
1. Well it have any bearing on any law making? No.
2. Will it have any bearing on decisions made in Westminster? No.
3. Will it make it easier to collect and appropriate taxes as we see fit? No.
In that case what is it then? I'll tell you what it is. It's yet another layer of meaningless and pointless bureaucracy which will need new infrastructure (i.e. buildings cos the existing council ones won't be good enough), and new personnel (cos the existing councillors won't be good enough).
And who will pay for this pointless exercise, why us Northern twats, and hence why we didn't want it in the first place you cunts!
Nominated by: Rebel without a Cunt!
News this week that the Northern Powerhouse Trust has been set up – and guess who'll be running it? George fucking Osborne.
A shit idea thought up by a shit politician and now to be run by said shit politician.
George Osborne and the Northern Powerhouse : two cunts for the price of one!
Nominated by: Dioclese