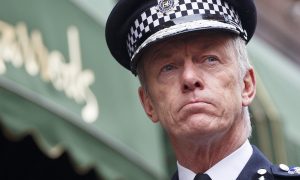 Sir Bernard Hogan-Howe is a giant cunt for saying it is not if but when there is a islamic terror attack in UK. It is on a par with the french prime minister saying the french must get used to terror attacks. What a load of defeatist bollocks. The idea that we cannot do anything about it and when it does happen we must just accept it as part of life, shrug and move on is wrong and if that is how Sir Bernard Hogan-Howe thinks he should resign immediately and go become an imam instead.
We know who is making the attacks and we know why. It is muslims and it is islam. Not radical islam, just islam. 60% of British muslims would not report a suspected terrorist, 100% think homosexuality is wrong and should be punished and 20% think suicide bombings are justified, This is not a looney radical fringe, it is mainstream islam.
And then the daft cunt unveils a string of anti terrorist measures ( A.T. as those in the know say. FFS! ) including stopping and search vans driven by white British with armed officer support, a super duper motorbike mounted armed officer fast response unit dressed in very gay looking Joe 90 "tactical" gear and a bunch of plod wasting fuel bombing up and down the Thames in an inflatable boat. All based in London, all extremely visible and all completely fucking pointless. I don't care how much Call of Duty they have played, they are going to look a set of cunts when the next religion of peace nutter sets fire to an OAP home in Northallerton.
In other news, MPs are warning that they may not be able to re-settle the 20,000 rag head rape-ugees we plan to import in the next 4 years. Will this make them re-think the whole virtue signaling project? Will it fuck!
We will all just have to get used to being the victims of terrorism and the sight of gay-boy robocop wannabes riding round on motorbikes. It's like fighting cancer with an aspirin.
Nominated by: Skidmark Eggfart