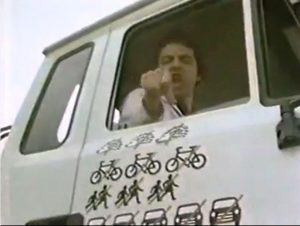 Truck drivers. I know it's not an overly common, everyday vehicle over in Blighty but over here they're like a fucking plague.
If I ran the dealerships over here, it would go something like this:
Pickup Customer: Ah wowna pik erp trerk.
Dealer: Yes sir and do you live or work on a farm or ranch?
Pickup Customer: Nope. Ah jerst wowna pik erp trerk.
Dealer: I see. I'm struggling to understand your need for such a vehicle. Do you intend for this to be your 'everyday' vehicle?
Pickup Customer: Yerp.
Dealer: Very well then. Please follow me over to our frontal lobotomy department where we can make the necessary arrangements.
I'm telling you, these 2 ton oversized Tonka toys sit on your arse in rain, sleet, ice and snow. They cut in front of you for no reason when there's miles of empty road behind you. They never use indicators and if you should ever honk the horn at them for doing something stupid and/or dangerous, well then you're treated to a tirade of abuse and hand gestures like it's YOU that's done something wrong! The ignorant trash which drives these bloody things need rounding up, have the driving manual (Highway Code) tattooed onto their beer bellys, then kicked repeatedly in the groin area, then set on fire, then…..you get the general idea.
Nominated by: Imitation Yank