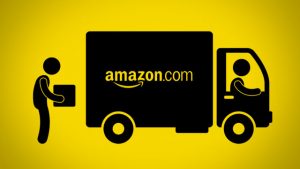 Amazon deserves a cunting… Email received today, please would you spare a few moments to help us improve our service ?
Very cleverly, click on the three buttons – yes it arrived on time, yes it met my expectations, yes they were courteous and when I contacted them. Was there a button to click for "Efficient?" Nah, like fuck. So I clicked send… "your comment is too brief, you have to fill in the box below"…
"My dear Fuckwits, have already replied by pressing above buttons. Fuck off…Fuck Off…Fuck OFF"
Nominated by: HBelinda Hubbard

I used to be a big Amazon fan. Would buy my stuff on there by default pretty much. However, things changed when they announced they were going to build some kind of warehouse facility in my state. Allow me to explain.
In Yankland, each state collects sales tax which is added to the price of stuff you buy. It's the Yank equivalent of VAT. However, if the store you buy from is an online store and there's no physical presence in the state, there is no sales tax! Instant price advantage. Then Amazon announced they're to build a facility in my state and by just announcing it, state law says Amazon have to add sales tax to everything bought by people from my state.
So, Amazon makes a business decision for the betterment of their company without consulting me in any way and by so doing, everything I buy from them instantly goes up by 8%. Lovely. I complained bitterly, but Amazon claim they're still able to sell at discounted prices due to volume deals with suppliers. Bullshit. I priced out several items from another online store and the identical items from Amazon were more expensive. Not by much, but it was more expensive.
So Amazon can go fuck themselves unless they re-introduce an 8% discount on my orders. Which they won't because they're cunts.
Nominated by: Immitation Yank