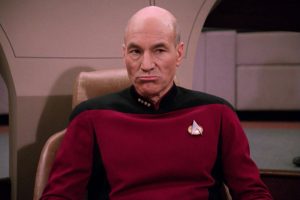 It is high time that that fucking ignoramus actor luvvie cunt Patrick Stewart was cunted again.
He has always been on the radar of cunts but he has overstepped the mark with his latest 'comedy' video in which he claims ( this is the serious part) that it was the European convention on Human rights which gave us in the UK , the right to a fair trial, protection from torture and the criminalising of domestic violence amongst other things. FFS !!!! This is the latest in the brainwashing of the populace to have them think that none of these things existed before ECHR.
A similar strategy is underway with the EU. The EU won peace in Europe don't you know. Fucking cunts and useful idiots like Stewart are at the heart of this fucking nonsense.
Nominated by: Vermin Cunt Spotter