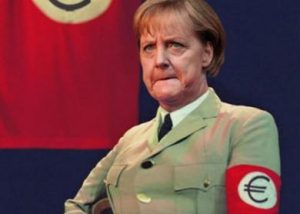 I've Just been reading in the Daily Express (don't judge me) the 'real' reason that Merkel wants the UK to remain in the EU. Apparently, a Kraut bank has estimated that if we do leave, Germany will lose around £35 BILLION. That loss will seriously fuck their economy. If that happens, it will fatally fuck the EU, because it will mean that the EU's top TWO financial contributors will no longer be contributing. The UK because we're no longer members, and Germany because they'll no longer be able to afford the payments. Greece will no doubt love the Irony of that one.
I feel sorry for the ordinary German people, but Merkel deserves everything that would happen to her. She's a nasty, fat, arrogant piece of shit, who thinks she owns Europe. That's why she invited EVERY refugee on the planet to Germany, without thinking about (or asking) the other countries they would have to get through to reach Germany. She didn't even bother to ask the German people, calling her "damned duty" to help refugees. A couple of years ago, Greek protesters mocked up pictures of Merkel as a Nazi, they weren't far from the truth.
The Nazis were left wing socialist bell ends, who thought it was their destiny to rule the world. Merkel has acted in exactly the same way with the EU.
Nominated by: Quick Draw McGraw