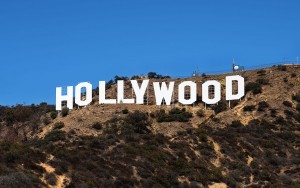 I think it's time Hollywood was cunted. It seems that Hollywood scriptwriters have become lazy and lost their imaginations. I've come to this conclusion due to the lack of original movies, and because of the number of remakes/reboots that have been made lately. And also because of the remakes that are on the way.
Robocop, Total Recall, Clash of the Titans, Evil Dead, Fright Night, Conan. These are just some of the unoriginal movies that have come out of tinseltown over the past six years or so. And apart from all being remakes, the other thing they have in common, is that they were all shite. Total Recall never had a chance, because it had Colin Farrell in it. And Robocop was an emasculated pile of dog shit. The writers went for a 15 rating, and ended up with a movie that deserved a PG rating.
Now we have Ghostbusters on the way. It should have been a movie to get excited about. But then we found out that the producers were cockless PC freaks who have made the four lead characters entirely female. I can just imagine that meeting. Bottles of organic, fair trade spring water on the table, with organic, fair trade tofu and Mung beans. OK guys, I have a radical idea. Let's fuck things up and make the lead characters women. I've seen the trailer for it, and it looks shite. Of course Harold Ramis had a big hand in the original movie, and he was a comedy genius. Unfortunately, he's no longer with us. Unfortunately, today's writers have all the talent of a roll of toilet paper.
I also happen to know that they've remade Kindergarten Cop, another Schwarzenegger movie, with Dolph Lundgren, and a remake of Predator is on the way. What next? Commando? These cunts should be beaten with sticks until they can come up with something original, or at the very least, improve on the movies they're currently pissing on.
Nominated by: Quick Draw McGraw