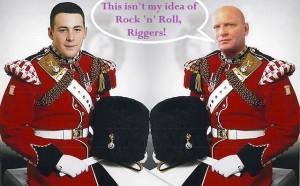 I see Chris Spivey is on trial and is being sentenced today for harassing the family of Lee Rigby.
Reading the things that Spineless Spivey has done to that family, I find it difficult to believe that any intelligent, civilised human being could come with the sheer evil that Spivey has concocted. Then again, having visited his sight, it's clear that Spivey isn't even slightly intelligent or civilised. And I have serious doubts as to whether he qualifies as a human being. My instinct is to say to know.
This worthless piece of shit actually started his campaign against Lee Rigby and his family the day AFTER his murder. Over the past couple of years, Spivey has printed the addresses of his mother and sister, accused the mother of working with MI5 to incite anti-muslim violence, questioned whether Lee Rigby actually existed, accused Lee's sister's partner of being Lee Rigby, accused another man of being Lee, expressed his doubt that Lee was ever in the Army and if he was, "was a potato peeler at best". This cunt is pure, fucking, evil.
It's rare that for me to visit a website and then think, "what the fuck did I just see"? But that's exactly what happened when I looked on Spivey's site. This prick needs to be forced to speak to a psychiatrist, because he has some SERIOUS fucking issues. He's not simply a sandwich short of a picnic, he's an entire hamper short of a picnic. I know we're supposed to treat the mentally ill with sympathy and understanding, but Spivey needs a severe beating, he takes trolling to a whole new level.
Nominated by: Quick Draw McGraw