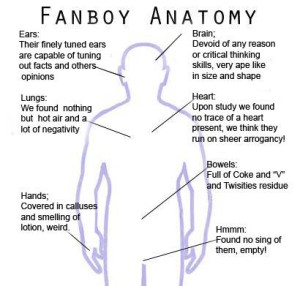 On the subject of Fanboy types, possibly the most overbearing intolerant cunts can be found on the James Bond movie forums.
Ever since Mr Craig put the tuxedo on for Casino Royale there have been such cringeworthy comments posted as "at last they are making Bond movies that intellectuals can enjoy" and "intelligent people enjoyed Skyfall whereas unintelligent people didn't" (Presumably these geniuses were intelligent enough to spot the numerous plot holes and logical errors in the aforementioned outing). The arrogance on display from some of these "Serious Bond Fan" types is truly shocking (positively shocking, you smug, condescending cunts, if any of you are reading this) I was even removed from one forum for jokingly suggesting that "Quantum of Solace" should be retitled "The Yawn Supremacy" or "The Bourne Mediocrity" and that the producers were too scared to use their imaginations in case some halfwit cracks an Austin Powers joke.
Personally I think Dan Craig is fine, it's just the movies that need moving up a notch but mild, lighthearted criticism is met with a barrage of sneering and insults. IT'S ONLY A MOVIE, YOU ARROGANT FANBOY CUNTS!!!
Nominated by: Mr Bastard