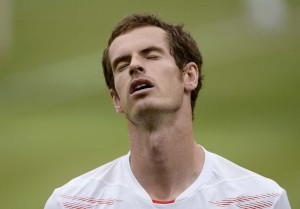 So, Andy Murray gets cunted for the ninth time. Co-incidentally, if Federer wins this Sunday that's the same number as the number of Wimbledon titles he'll have won.
Murray didn't just lose – he was totally outclassed and outplayed. As usual, his temperament let him down. Federer made it look easy. And it was easy because Federer is a champion and Murray is just a good player.
There's only one person in tennis I despise more than this little scrote, and that's his bloody mother. She really gets on my tits.
7-6, 7-6, 6-4 says it all. You're out of your depth, sonny boy.
It has been said on here that some people keep getting cunted again and again and that this is just too much repetition. However, in Murray's case the megacunt just can't be cunted often enough.
Now fuck off back to the Caledonia Peoples Republic, you loser!
Nominated by: Dioclese